June is National Safety Month
No 1 Gets Hurt
National Safety Month (NSM) highlights four leading causes of preventable injury and death on a national scale, providing the latest information and resources in effort to help keep more people safe. Observed annually in June, NSM focuses on reducing leading causes of injury and death at work, on the road and in our homes and communities.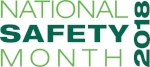 Each week in June, NSC will be providing downloadable resources highlighting a different safety topic:
Week 1:Emergency Preparedness
Week 2: Wellness
Week 3: Falls
Week 4: Driving
---
 Week 4 = Driving & New Vehicle Technology (June 25-29)
The final week of National Safety Month, June 24-30,  is almost here! Week 4 materials are on the subject of new technology in vehicles and how these features have the potential to dramatically improve driver safety and safety in the fleet industry – but only if used correctly. Help keep employees, coworkers and family safe by using the resources and tips found below. Make sure to continue to engage and educate your employees and put your safety knowledge into practice all year long by accessing all the tools and resources available on our Member exclusive website.
---
Week 3 = Falls (June 17-23)
It's time to focus on FALLS – a leading cause of injury both on and off the job. Did you know that falls to a lower level are the second leading cause of preventable workplace fatalities? This week, keep an eye out for slip, trip and fall hazards and each other by using these materials at your workplace. Use the checklist and tip sheet at home too! Make sure No 1 Gets Hurt.
---
Week 2 = Be Well – Be Safe (June 11-15)
Your personal wellbeing is crucial to every part of your life, including your safety. For the 2nd week of National Safety Month,  June 10-16, the focus is on physical and mental health and the growing problem of prescription drug misuse.
Bonus: Create a Wellness Program
Read and share these materials with employees to help them be well and safe. Bonus materials are included on creating a wellness program at your workplace.
---
 Week 1 = Emergency Preparedness (June 4-8)
Tips to Promote Emergency Preparedness
Hang the poster in prominent areas such as in the lunchroom or by the elevators
Hold a 5-Minute Safety Talk and present materials at an National Safety Month kick-off meeting or at a "Lunch and Learn"
Create a bulletin board and pin tips, plans and reminders on how to be ready in case of an emergency
Hold a Weather Emergency Drill
Member-Exclusive Bonus Week
Also, check out these additional resources:
---
Members Get More
​NSC/WSC members get even more materials to promote National Safety Month. Not a member? Join today.
Already a member of NSC? Sign in to get more NSM materials.
Get Your Employees Involved in National Safety Month
​We offer a number of items to help promote a safety culture at your workplace. Order here.